SPECIALIST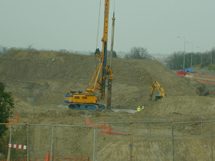 Regan Specialist brings an extensive range of specialist construction and civil engineering methods, developed and costumed to our client's needs. The company provides specialist construction solutions in the following areas:
Wind Energy
Piling Works
Flood Alleviation Works
Mechanical and Electrical
Design and Build Solutions
Tunnelling / Trenchless Technology
Demolition
Railway Works
Network Utilities
Temporary Works
SPECIALIST PROJECTS

Client: Laois County Council
Designers: Mulligan Reside Larkin Ltd
Completion Date: April 2008
Description: This award winning project consisted of the provision of a Civic Plaza area to include an open public amenity space and integral new-build 2-deck carpark semi-recessed below existing grade level.
Open public amenity space.
Integral new-build 2-deck carpark with ramped entry / exit.
Installation of 3 no. stop passenger lifts and public stairways.
Associated siteworks and services.
Hard and soft landscaping with street furniture.
Band stand.
Water & Lighting features

Client: South Dublin County Council
Designers: Clifton Scannell Emerson Associated
Completion Date: October 2004
Description: The project involved the diversion of an exist river to allow for the construction of the Grange Castle Business Park.
2000m diversion of existing river by open cut channel construction
150,000m3 of bulk rock excavation
Construction of 5no 6m x 2.5m in-situ culvert river crossings
Construction of signature pin arch culvert
Installation of precast concrete overflow culvert under the Grand Canal
All works were constructed in close liaison with the Eastern Regional Fisheries Board.

Client: Airtricity
Designers: Muir Associates
Completion Date: August 2006
Description: The project involved the development of a windfarm and associated substations on a 300 acre site.
Construction of 18 No Concrete wind turbine bases
Installation of 216 No Piles to turbine foundations
8,000m of 5.0m wide access road
Hardstandings and transformer slabs
700m of culverts
16,000m of service ducts
Directional drilling
2,500m of boundary fencing

Client: Meath County Council
Designers: Ryan Hanley WSP
Completion Date: May 2009
Description: The Navan Inner Relief road was constructed to divert 7000 vehicles a day away from the town centre.
Demolition of 2no existing Railway Bridge over live railway lines
Construction of 2nr Railway Bridges over live railway lines superstructure comprised of Insitu-concrete and formwork with precast concrete bridge beams.
Installation 132nr bored Insitu 750mm diameter piles with 1 meter rock socket, pile length varies from 9 to 13 m in the vicinity of live railway line and national road.
Construction of 1km of mainline signal carriageway and 400m of side roads.
Construction of 2nr roundabouts on national routes
Construction of earthworks embankments 8-12m in height
6,000m of carriage way and earthworks drainage
16,500m of new utility ducting & 750m of watermain