ENVIRONMENTAL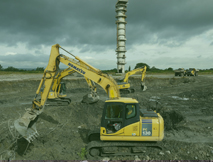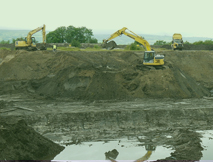 Environmental
Regan Environmental offer clients a complete and targeted solution to their specific environmental requirements.
A complete service from investigation, design and treatment, through to implementation and validation
Experienced in the safe and effective management of contaminated and hazardous materials.
The highest quality, environmental, health and safety standards
Effective liaison with clients, consultants and regulatory bodies
Full project management capability
Highly qualified and experienced environmental personnel
ENVIRONMENTAL PROJECTS

Client: Greencore Group Plc
Completion Date: Phase 1: 2011 Phase 2: 2013
Description: Rehabilitation of the former Irish Sugar Factory to green field site.
350,000m3 bulk excavation of unlined landfill for treatment
25,000m3 bulk excavation of lined landfill for treatment
7,500m3 bulk excavation of molasses contaminated soil treatment
7,500m3 bulk excavation of oil contaminated soil
Construction of bio-piles for onsite treatment of oil contaminated material
Segregation of contaminated material into various waste streams
Safe Disposal of waste to offsite licensed waste facilities
Management of Hazardous waste including Asbestos
Site Leachate Management
Testing and Monitoring of ground and soil conditions

Client: Kildare County Council
Completion Date: 2008
Description: The project consisted of the construction a local authority waste management facility over three construction phases.
Phase 1: Waste Transfer Station
Phase 2: Compost Shed & Recycling Yard
Phase 3: Waste Transfer Station Enclosure
Excavation and movement of 46,000 tonnes of municipal waste
Demolition of existing concrete structures
Construction of 30,000 sq ft portal frame and cladding enclosure
Construction of Insitu concrete yard 22,000 sq ft
Construction of Insitu concrete retaining walls
HDPE Lining and Landfill Gas Collection System
Leachate Collection and Management System
Surface Water Collection and pumping station